In the year ahead of us IPLC will be issuing a range of Newsletters. The focus will be on countries where we have offices, bringing we believe, unique insight into individual markets and the role that Private Label plays in each country. This first one will focus on the United Kingdom.
The United Kingdom (by Richard Harrow, IPLC UK)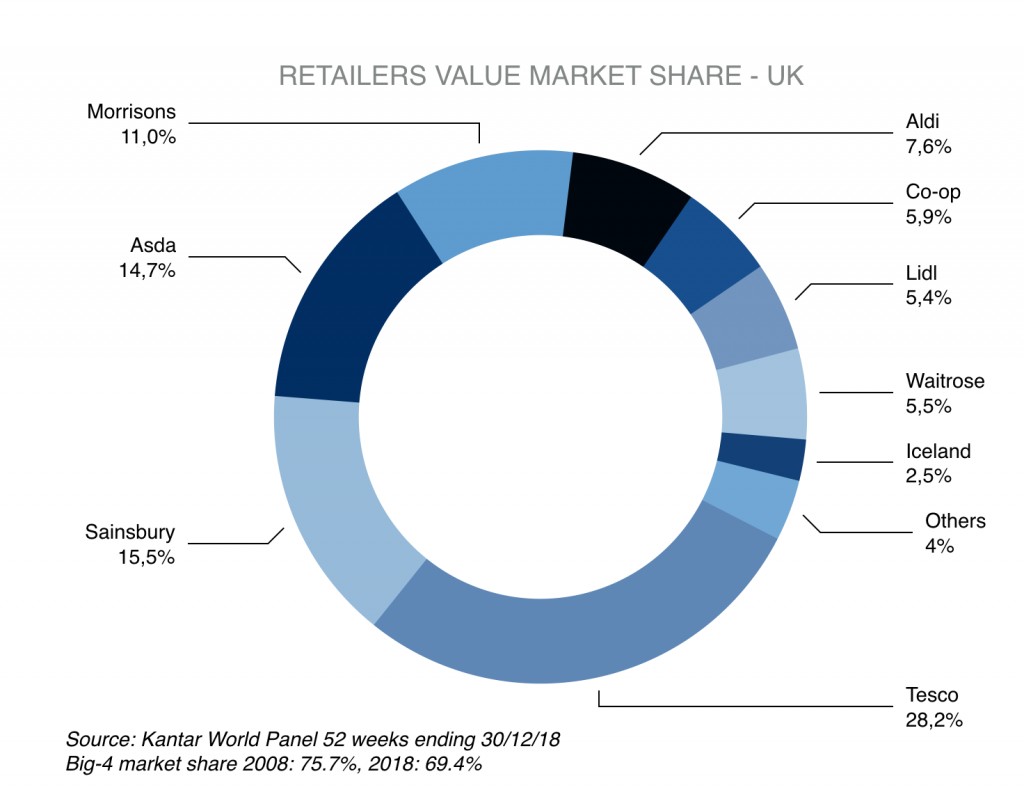 The UK market continues to see a major shift in where consumers choose to spend their money. Three channels continue to attract a higher share of wallet, with On-Line, Convenience and Discount channels all gaining share.
Of the three, discount, most notably Aldi & Lidl, are driving market share and growth, having a combined value share of 13% up year on year by 2.6%.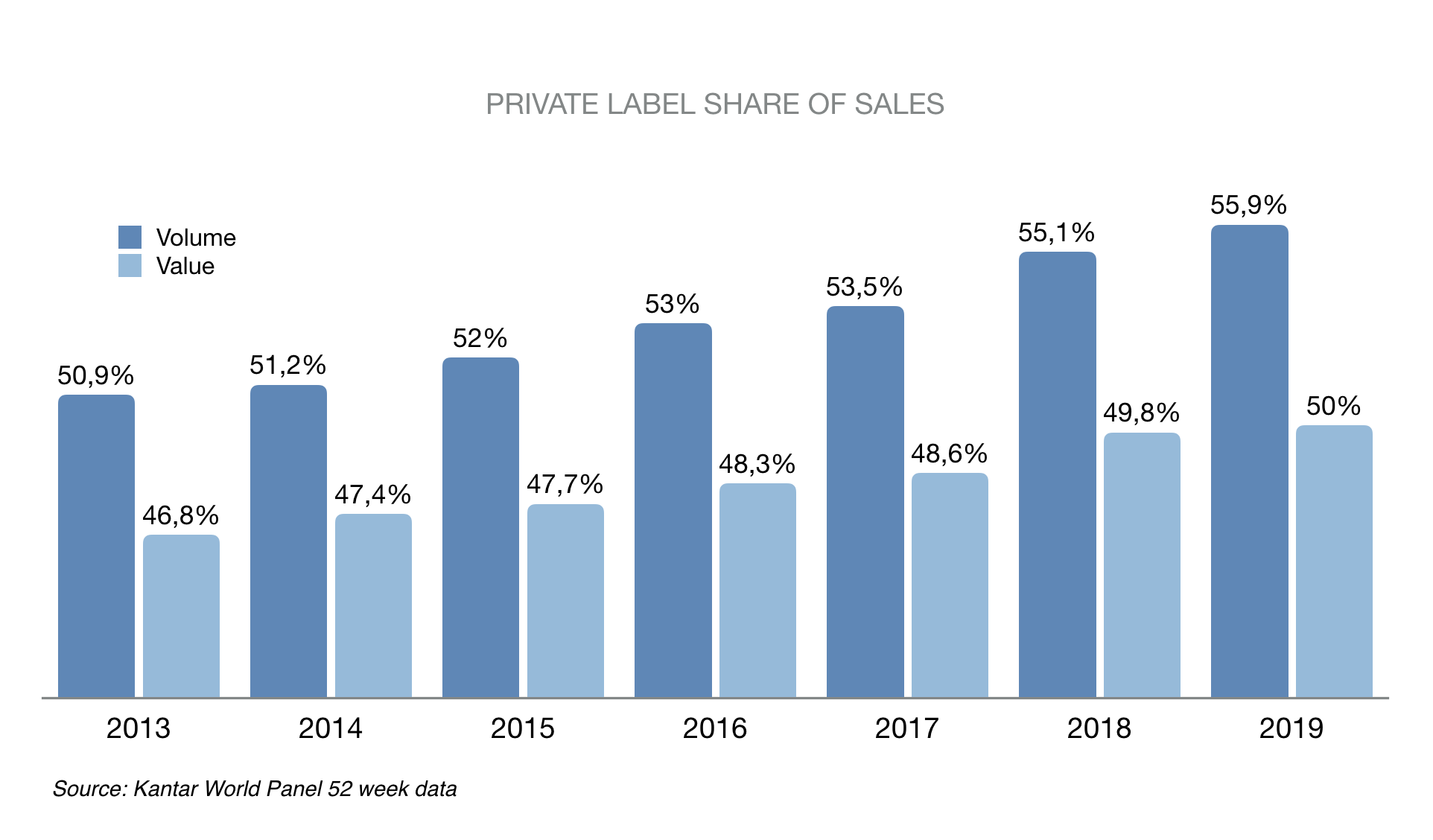 This growth is contributing to an ever-growing share of market for Private Label. Data from Kantar Worldpanel shows the volume share now stands at 55.9%, with value at 50.0%, up from 50.9% volume and 46.8% value only 7 years ago.
Over the 7 years, shown above, Private Label accounted for over 74% of the value growth of the market and grew total volume by over 20% versus brands that declined by -1.2%.
The UK market for Private Label has been very competitive over this period, with average pricing in 2018 only marginally above 2012 levels. The market saw massive deflation between 2013 and 2016, only seeing average prices increase from 2017.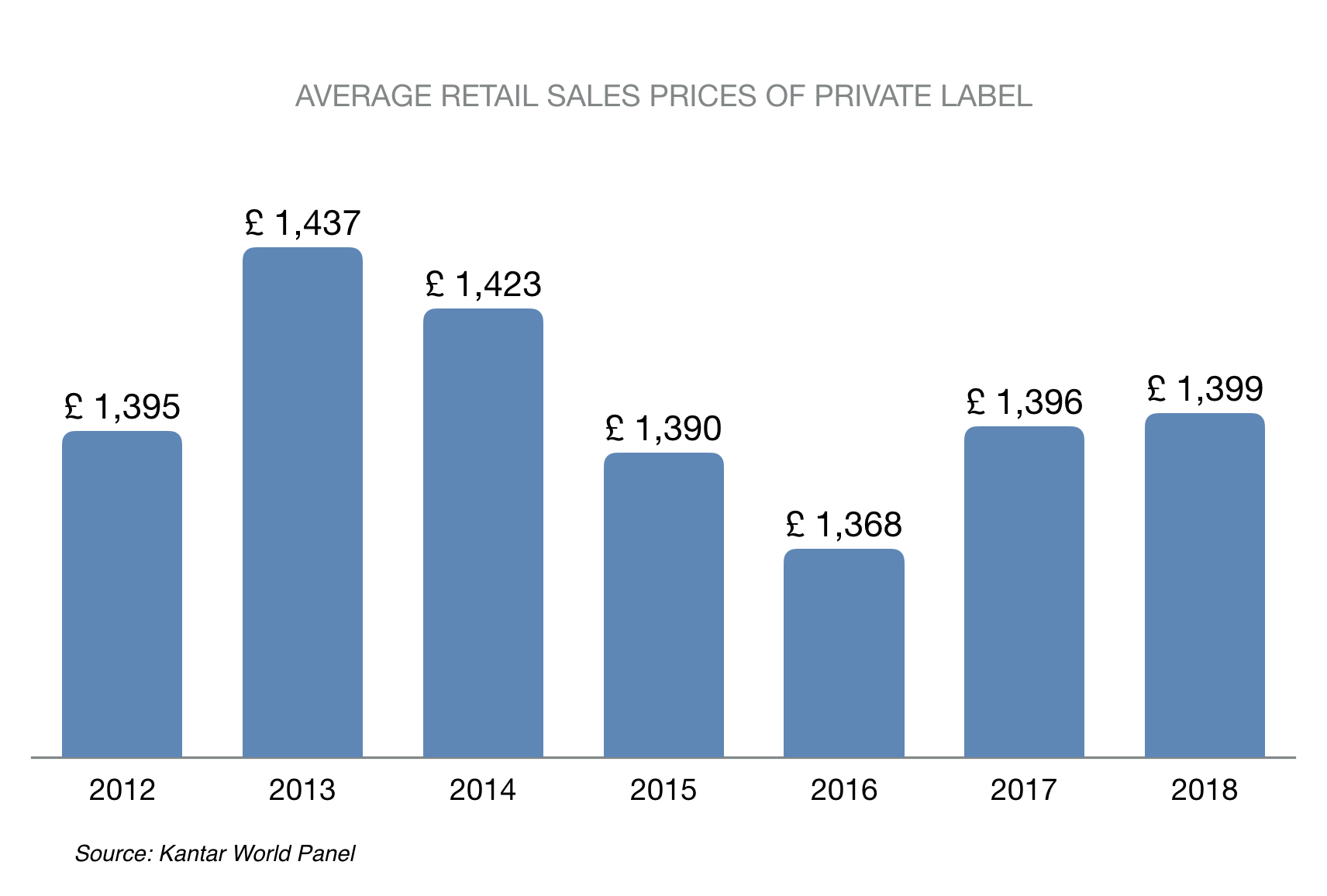 However, it is not just the discounters that are growing Private Label. All UK retailers are re-focusing their efforts onto their brands, as they strive to defend themselves from the discount onslaught, to emphasise their value position and to create a point of difference in an effort to build consumer loyalty.
Consumers are becoming ever more promiscuous and shopping across a range of stores. IGD recently said that on average a UK consumer uses 12 stores and 5 channels in a month. Indeed, at IPLC we would argue that the role of Private label is now less about offering a cheap alternative to the brand, it is now one of the most important levers retailers can use to try to build consumer loyalty.
Tesco, as the No1 retailer, is attempting a range of initiatives. At the value end of their range, they have replaced Tesco Everyday Value with a range of exclusive brands aimed at competing with the discounters. Whilst they may have matched retail prices, they are still quite a long way from the quality. For example: Eastman's Cheese & Bacon Quiche (One of Tesco's new exclusive brands) versus Aldi Crestwood brand, both products are 400g with a retail price of £1.45.
The Tesco exclusive brand matches the Aldi brand in weight and RSP, however with a bacon and cheese content in the Tesco product at 18% or 72g, this compares very poorly against Aldi's values for Bacon and Cheese of 45%, or 180g total weight for these two key ingredients.
Tesco, however, is driving innovation with ranges such as Wicked Kitchen, their vegan range, with 32 SKUs in the range from pizza, to ready meals and sandwiches. They also have a range under The City Kitchen brand featuring a range of 8 Asian meals.
Premium Private Label, first launched by Tesco 20 years ago, is now offered by every UK retailer, the category accounts for 6.6% of the value of Private Label sales and 4.3% of the volume. However, the category has seen deflation since 2015, with average retail price falling by just over 9%. The deflation is being driven by both Lidl and Aldi as they move into this category. Lidl over Christmas said their Deluxe range had grown by 33% year on year, and Aldi stated their Premium Private Label, Specially Selected, is now a £1bn brand accounting for 10% of sales.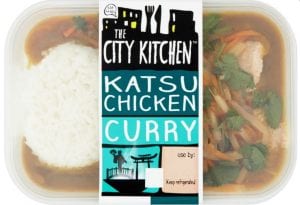 Premium Private label remains a core focus for all retailers. Tesco were recently using their Finest range to offer a meal deal for Valentines, offering stunning value with a meal for two, plus a little bit of fun (a heart shape of the butter added). Sainsbury however went one better, they called their steaks Valentine Steaks with two butter hearts.
Sainsbury also continues to drive their Free From range, with products in the chill cabinet, an extensive ambient range, and frozen. All products use the same colour and pack design. In research by IPLC last year we identified that Free From in the UK carried the highest premium versus core Private Label. This does not seem to have changed, Sainsbury Free From Lasagne sheets retail at a premium of over 230% versus the standard product.
Another category that has seen the launch of many new Private Labels is the Meat Free category. Recent data indicates that 7% of the UK population now consider themselves Vegan, with a further 14% claiming to be vegetarians.
As already mentioned, Tesco have their Wicked Kitchen range, which they doubled to a range of 32 items just before Christmas. During 2018 we saw several more retailers launch meat free and vegan ranges into a market valued at £380m (Kantar data February 2018).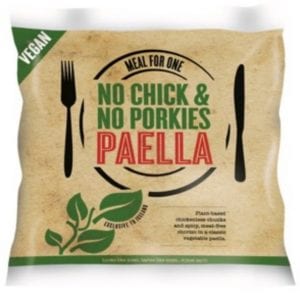 We are starting to see further consolidation in the Industry, especially in the convenience channel. Tesco's purchase of Booker added a range of convenience stores under both the Premier facia and independents. Co-op then bought Nisa as well as agreeing a supply agreement with Costcutter. Finally, we saw Morrisons agree to supply McColls, resurrecting the Safeway brand. Based upon IPLC research we estimate that 25% of all convenience stores are now owned or supplied by major retail groups.
The impact of this is that we will see more Private Label being driven into this channel, especially in fresh food, traditionally an area of weakness in the independent sector, but one of the key strengths for companies like Tesco, Co-op and Morrisons.
The Co-op who have over 3,900 stores has seen good growth in 2018, growing at 3.8% versus the Big 4 (Tesco, Sainsbury, Asda & Morrisons) who grew by 1.5%. At the heart of the Co-op ranging is their Private Label. A good example is their Chilled Pizza range which over trades with a market share of 12.4% (Kantar pre-packed chilled pizza 52 weeks ended 27/1/19) versus the Co-op market share of 5.9%. The Premium Truly Irresistible range has won many consumer and industry awards and is recognised as offering true innovation, such as the Butternut Squash and Scamorza (an Italian cheese).
The UK Competition Market Authority (CMA) has recently given preliminary guidance on the proposed merger between Sainsbury and Asda. The result is that the merger now looks unlikely to happen, as the CMA considered that in the long term the merger would reduce choice for consumers and lead to possibly higher prices. The deal, whilst bold, was really just accelerating the speed of change in the UK market. The continued growth of the discount channel means that in the next 10 years you have to question if all of the Big 4 can survive.
In conclusion, the UK Private Label market, whilst highly competitive, retains its ability to develop new categories and to continue to offer consumers real innovation and excitement. At IPLC we predict that the trend in the UK of Private Label taking a larger share of the market will continue, driven mainly by the continued growth of Aldi and Lidl combined with traditional retailers trying to defend their market shares.